KU Band ABS 2 Middle East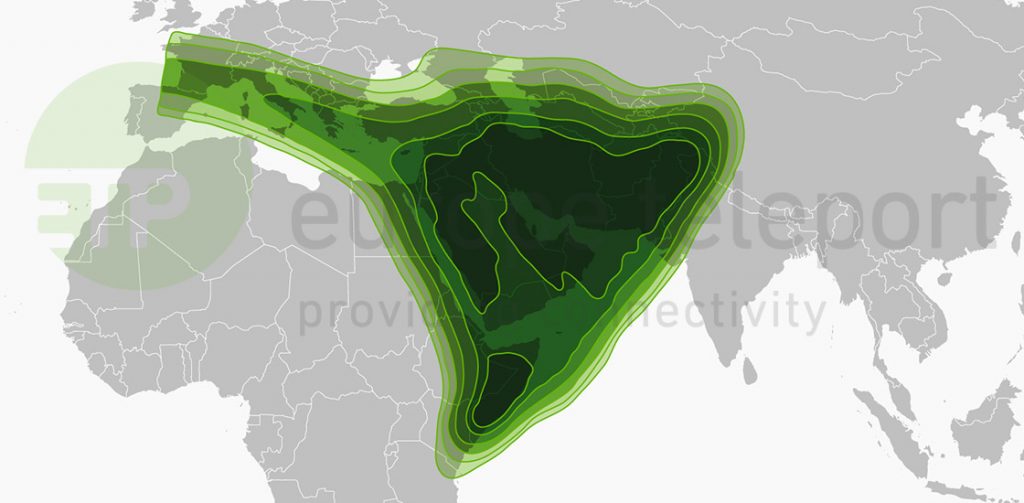 Service available in these Countries:
Afghanistan, Egypt, Albania, Ethiopia, Bahrain, Bosnia and Herzegovina, Bulgaria, Djibouti, Eritrea, Georgia, Greece, Iraq, Iran, Israel, Italy, Yemen, Jordan, Qatar, Kenya, Kyrgyzstan, Kosovo, Croatia, Kuwait, Lebanon, Macedonia, Oman, Pakistan, Saudi Arabia, Switzerland, Serbia, Slovenia, Somalia, South France, Syria, Tajikistan, Turkey, Turkmenistan, Uzbekistan, United Arab Emirates, West Jordan, Cyprus
Satellite and Service Information
Orbit Location = 75° East
Payload Power => 16,7kW
Capacity = up to 1 GHz
The Asia Broadcast Satellite (ABS) 2 was build by Space Systems / Loral of Palo Alto, California and launched on 6 February 2014. The satellite carries 51 Ku-band, 32 C-band and six Ka-band transponders and is designed to provide 16,7 kilowatts of power to it's payload for longer then 2029.
The KU-Band covers the Middle East, Asia and Europe including DTH, cable TV distribution multimedia applications as well as data networks, like VSAT (iDirect, Newtec, UHP, Comtech) and telecommunications services.
Satellite Name: ABS-2 (ST 3, Koreasat 8, Condosat 2)
Status: active
Position: 75° E (75° E)
NORAD: 39508
Cospar number: 2014-006A
Operator: ABS
Launch date: 6-Feb-2014
Launch site: Guiana Space Center
Launch vehicle: Ariane 5 ECA
Launch mass (kg): 6330
Manufacturer: Space Systems Loral (SSL)
Model (bus): LS-1300
Orbit: GEO
Expected lifetime: 15+ yrs.

Details:
51 Ku, 6 Ka and 32C band transponders to provide a wide range of services for Asia, Russia, Africa, and the Middle East, including DTH, cable TV distribution, multimedia applications, as well as data networks and telecommunications services.
Minimal required VSAT equipment:
NTvsat
We are a german company who provides all services for satellite internet. Our goal is to connect remote locations with internet or your local network. We also provide internet for moving vehicles like ships, truck, trains or plains. Our main focus is Africa and the near East.
CONTACT
NTvsat
Alter Schlachthof 17
Karlsruhe
Germany
Phone: +49.173.699 09 74
sales@nt-vsat.de
www.nt-vsat.com