KU Band E21B Western Beam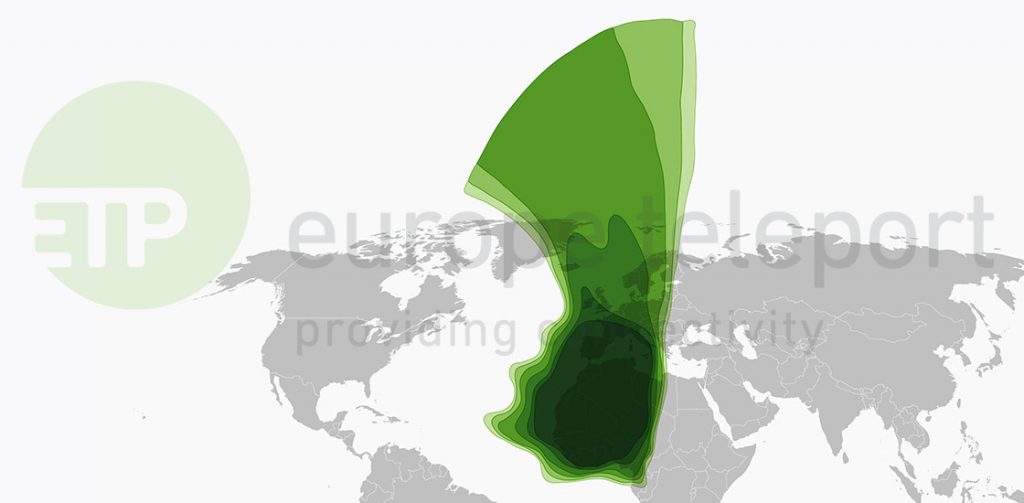 Service available in these Countries:
Albania, Andorra, Belgium, Bosnia And Herzegovina, Bulgaria, Denmark, Germany, Estonia, Finland, France, Greece, Ireland, Iceland, Italy, Kazakhstan, Kosovo, Croatia, Latvia, Liechtenstein, Lithuania, Luxembourg, Madagascar, Malta, Macedonia, Moldova, Monaco, Montenegro, Netherlands, Norway, Austria, Poland, Portugal, Romania, San Marino, Sweden, Switzerland, Serbia, Slovakia, Slovenia, Spain, Vatican City, United Kingdom, Morocco, Algeria, Tunisia, Libya, Niger, Mali, Chad, Mauretanien, Westsahara, Sengeal, Gambia, Guinea-Bissau, Guinea, Sierra Leone, Ivory Cost, Liberia, Ghana, Togo, Benin, Nigeria, Kamerun.
Satellite and Service Information
Orbit Location = 21,5° East
Payload Power => 12kW
Capacity =  212 MHz
The EUTELSAT 21B is based on the Thales Alenia Spacebus C3 platform and has a design lifetime over the year 2027. EUTELSAT 21B is the 20th satellite delivered to Eutelsat by Thales Alenia Space. The satellite was launched in November 2012 to the position 21,5° East, where it replaced EUTELSAT 21A. Eutelsat 21B offers significantly increased capacity, with 40 Ku-band transponders, and improved power and coverage.
Over the past decade, 21,5° East has become a major orbital position for data services like VSAT (iDirect, Newtec, UHP, Comtech), professional video and government services. In addition to an enhanced widebeam across Europe into North Africa and Central Asia, the satellite also features two dedicated high power beams covering North-West Africa and the Middle East.
Satellite Name: Eutelsat 21B (E21B, W6A, Eutelsat W6A)
Status: active
Position: 21° E (21.5° E)
NORAD: 38992
Cospar number: 2012-062B
Operator: Eutelsat Communications S.A.
Launch date: 10-Nov-2012
Launch site: Guiana Space Center
Launch vehicle: Ariane 5 ECA
Launch mass (kg): 5012
Dry mass (kg): 2060
Manufacturer: Thales Alenia Space
Model (bus): Spacebus-4000C3
Orbit: GEO
Expected lifetime: 15 yrs.
Details:
40 Ku-band transponders to provide data, professional video and government services across Europe, North Africa, the Middle East and Central Asia. It will be equipped with one broad footprint sweeping across Europe into North Africa and Central Asia, and two dedicated high-power beams to add increased flexibility for regional coverage of North Africa and the Middle East.
Minimal required VSAT equipment:
NTvsat
We are a german company who provides all services for satellite internet. Our goal is to connect remote locations with internet or your local network. We also provide internet for moving vehicles like ships, truck, trains or plains. Our main focus is Africa and the near East.
CONTACT
NTvsat
Alter Schlachthof 17
Karlsruhe
Germany
Phone: +49.173.699 09 74
sales@nt-vsat.de
www.nt-vsat.com